Where we are
Cervia is in the province of Ravenna in the Emilia-Romagna region.

The hotel is close to the main attractions of the city:

- Old Town
- Beach
- Terme di Cervia
- Natural Park
- Butterfly House

Ravenna Km. 30
Cesena Km. 25

The Hotel Airone is located here:



How to get
Get to Cervia is easy, as the city is well connected by all transport routes:
- Exit the A14 motorway exit Cesena to Cervia, SS16 Cervia, Ravenna direction
- Railway stations: provenineti trains from Rimini / Ravenna / Bologna Cervia Station
- Airport of Rimini and Bologna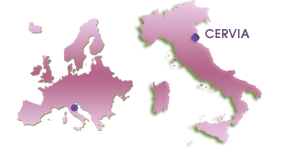 Theme parks
And for those who prefer the fun parks they are just as close to Italy in Miniature, Mirabilandia and Atlantica.