Cervia, the ancient city of salt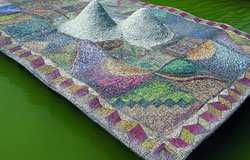 The ancient "city of salt", the old "fishing hamlet" and the vast stretches of centuries-old pine forest have all been maintained with the development of tourism in mind. It was a process that was pioneered at the end of the 1800s and and reached a pinnacle with the birth of Milano Marittima, the "Garden City", in 1912 on the edge of the historic pine forest. This region welcomes you with its rich natural beauty, traditions, culture, history and hospitality venues, all offering numerous holiday attractions that include wellness, fun and relaxation.
The Cervia Spa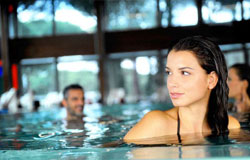 The spa is surrounded by 27 hectares of natural park that is criss-crossed by cycle ways and footpaths immersed in an ancient pine forest. The saline salso-bromo-iodic "mother" waters and thermal muds used in healing treatments at the spa are extracted from the nearby salt mines of Cervia.
Adriatic Golf Club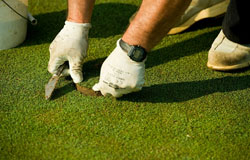 The establishment, which covers an area that is almost 100 hectares, is only a short distance from the sea and from the centre of Milano Marittima. It is immersed in a natural environment of undoubted beauty: the first fairway runs along the edge of an atmospheric pine grove, the second, peppered with water obstacles, is reminiscent of the finest American courses while the third is reminiscent of the Scottish links. There is a double-tee Driving Range, two Putting Greens, a Pitching Green and three executive holes. The mild climate of the Adriatic Riviera means golfing activities can be enjoyed all year round.
Cervia Natural Park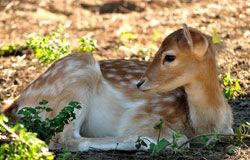 The Cervia Natural Park consists of 27 hectares of pine forest, it was established in 1963 to protect a considerable part of the local nature while at the same time making it accessible to tourists and visitors.


Milano Marittima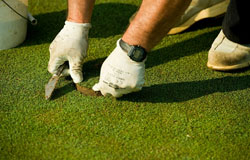 Milano Marittima is particularly famous for its lively social events: a testament to this are its celebrity guests, and its fashionable venues and shops. Framed by the spectacular century-old pine forest, Milano Marittima is ideal for a fun night out.
Ravenna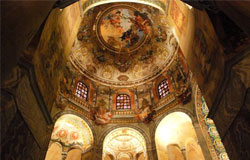 Ravenna, during its history, has been a capital city three times: first in the Western Roman Empire; secondly in the reign of the Ostrogoths; lastly under the Exarchate of Ravenna. The complex with its first Christian monuments is a UNESCO World Heritage Site: the Mausoleum of Galla Placidia, the Baptistry of Neon, the Archbishop's Chapel, the Basilica of Sant'Apollinare Nuovo, the Mausoleum of Theoderic, the Arian Baptistry, the Basilica of San Vitale and Basilica of Sant' Apollinare in Classe.
San Marino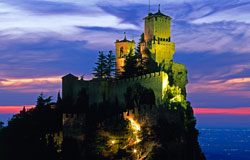 In 2008 the historic centre of the City of San Marino and the Monte Titano were listed as UNESCO World Heritage Sites as "testimony to the continuity of a free republic since the Middle Ages".


How to get